Heather Reynolds got tea with Cork's favourite podcasters, and discussed where the podcast came from, the importance of truth in humour, and not being an expert on sex.
Sitting down with PJ Kirby and Kevin Twomey, the duo behind I'm Grand Mam, you're immediately struck by their easy, innately Irish, charm. We met in a café ahead of their DCU live show on the 10th of February, and both had drank a full pot of tea before the interview was over. Sitting with them felt the same way listening to their podcast does, similar to the feeling of having a cup of tea and a catch up with a friend from school that you haven't seen in a while, and who is excited to fill you in on what you've missed in the meantime.
I'm Grand Mam, at its core, is a podcast about "Two Irish mammy's boys talking about growing up gay in Ireland, and how they're adjusting to London life", accoring to cohost PJ. Summing up the podcast that succinctly became something they've struggled with recently, stemming from their recent attempts to connect with people in the industry. "Even at the start, we struggled ourselves to even put it into a sentence." Kevin then went into specifics of the show and what they do in each episode, "Ultimately, what it boils down to, is it is just us having a chat, on our weeks and how we're doing, but also, because we're both gay, we do explore the different milestones that a gay man goes through, but also the fact that we're Irish and living away from home, that comes into it too."
Even at the start, we struggled ourselves to even put it into a sentence.
The name comes from their original idea for the podcast, outlined in their first episode, 'The Pilot', which is essentially a weekly catch up, including all the stories they've told their mams, and all the ones that they didn't. I'm Grand Mam itself stems from how, no matter how they're feeling, good or bad, they'll always just say they're grand, lest she catch the next flight over out of worry. That first episode was released on the 16th of February 2019, and one year on they have released twenty one episodes and amassed thousands of listeners, affectionately referred to as the mammies.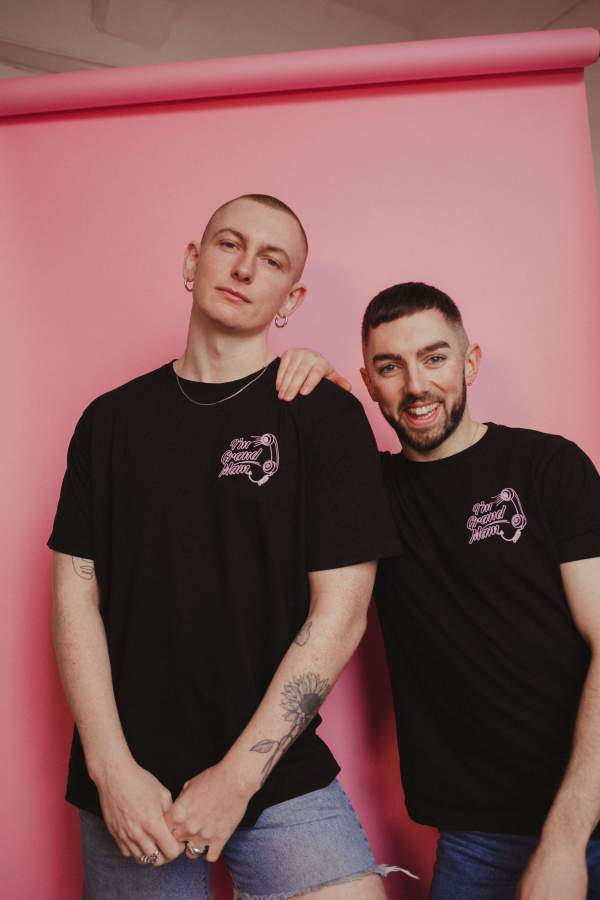 The idea for the podcast came from Kevin, who came back to London after Christmas with the idea. PJ didn't know what a podcast was at the time, but was on board once it was explained to him. "We originally said we wanted to do like, a gay night out in London, but like an Irish themed one? Because most of the gay nights out over there, they take themselves a bit too seriously, and even the ones that are East London and a bit more quirky, they go the opposite extreme, and we kind of want a happy Irish middle [...] like a Géilí, like a céili but gay [...] so then we just kind of came up with the podcast then, from that. It was just something that we initially did as kind of creatives and freelancing, like, not being able to do our own work, and we were like, well, if we're not getting employed to do things that we want to do, let's make the work for ourselves." said Kevin, when asked about how the podcast came about. "And as well, we loved hosting pre-drinks at our gaff any time new people would come around, or friends of friends [...] So we just rode that and went with it, like feck it, let's start the podcast." PJ added, "And it was just a laugh, to try something new, wasn't it?"
The pair originally met in UCC, where Kevin was studying French and Commerce, and PJ was teaching hip hop dance classes. "Me and Kevin grew up in Cork, but on different sides. I'm from the north side, and Kevin's from the south side, and we kind of got together through dance. Kevin, basically, came to one of my dance classes in UCC [...] We were both closeted gays at this stage-" 
I didn't know you were gay, but I knew you were someone who was okay with me being gay, because you danced, so that's the closest second.
"Neither of us were out, but I was on the Jazz squad, but I went to do PJ's hip hop class, and then afterwards I was like, oh my god I love that, so I started taking his class outside of UCC, and from then, PJ was like - because he was saving money to move to London - he had a dance fundraiser, and then he asked me to MC it, and I think it was from then that we-" 
"We got really close, because basically, like, when Kevin used to come to my class I used to think he was the funniest person ever. And as well, I think it was like, we kind of knew, both of us, I definitely knew Kevin was gay, and so I felt comfortable around him, you know? But you didn't know I was gay at all." 
"I didn't know you were gay, but I knew you were someone who was okay with me being gay, because you danced, and that's the closest second." 
"But then we kind of drifted, well we didn't really drift, we just kind of didn't see each other."
"So, PJ was based in central London, I was based in Essex for three years, and it was kind of in my final year, when I was doing a lot of work and auditions in London, I would always stay with PJ, and then that summer I was like, the highlight of my week was going down to see PJ or going out with PJ at the weekend-"
"He's obsessed with me." 
"-I was like, I'm going to have to move in with him. So I couch surfed in his gaff for like three months, and we just found a house in east London, and that's when the idea for I'm Grand Mam came about."
"Because we were really excited to move into this new place, and then Kevin came back from Christmas, and was like 'I want to start the podcast' [...] And I was like, yeah g'wan so."
As for the podcast itself, while it remains a very lighthearted show, PJ explained why they don't shy away from less funny, more important topics. "As we've kind of gone into the nitty gritty of the podcast, we do talk about quite serious topics, but in like, our own way, because we both like, handle everything with humour, so even if something's going really shit, we'll try and see the bright side of it, or try and make a joke out of it. It's like our defense mechanism. It's like, when we're in the podcast, we can go through those different topics, and I feel like we're getting feedback from them that that really helped them as well, because they can really resonate with a serious topic that affects them as well, like someone being sick or someone dying, or coming out to their parents, but then we go back in and they're laughing two seconds later."
It felt wrong to like, hold back anything from ourselves
Kevin then spoke about how bringing in these heavier topics came about naturally in the podcast, "It was weird, because after we did the first episode, even though it might have just been listened to by friends and family and stuff, we still did get messages from other people being like, 'Oh my god we love this!' So we actually struggled for a second with, like, what do we do for the second episode? And because we'd mentioned in the first episode about having a guest, we picked one of our gay friends who's really involved with fashion, but then it seems so weird for people who don't know us to have gone from episode one, where we didn't really reveal too much about ourselves, it was kind of just our plan for the season, or for the podcast, so we were like, actually the next port of call was our coming out stories. For those who don't listen to the podcast, part of PJ's coming out story was coming out to his own dad, who happened to be dying at the time. 
"I think basically, the reason why we kind of stumbled into more serious topics is that we were just chatting, and they just started coming up, it just felt right to tell them. It felt wrong to like, hold back anything from ourselves, so like, even now when we're recording, we might feel nervous about saying something, or after recording, we'd be like 'Oh, I don't know, will we put that in?' But it always kind of ends up making the episode, it needs to be said."
"We're conscious of the fact that we've younger listeners as well, and we have had people reach out to us who may not necessarily be out yet, but have said that they have found comfort in what we're saying, and the fact that they've gone through similar things, and are like, 'Oh, this has helped me.' So that's why we're like, actually at its core, we do need to remain quite truthful, and just be open and honest. Like, if there ever was anything that we were like 'Ah Jesus!', like in one episode, the sex episode, I was a bit like, because our mams are big listeners. Like, my mam's one of my best friends, but at the same time, does she need to be hearing about all this? So the sex episode was probably one of the most stressful episodes, like in terms of being so open and honest. But I think aside from that, from the episode two one we were kind of like, we kind of felt like there was a responsibility to be open. [...] And also, I think the truer something is, the more open you are about something, that's where the humour is as well, and when you're peeling back details...people can see through it."
It was never meant to be come to us if you wanna learn about sex because we're not experts, and the majority of it is nonsense
However, as hard as episode 9, 'Ho(e)mos', was to record, it did lead to their successful live show, Pure Brazen, a rudimentary sex positive sex talk, which priorities consent, body confidence, and JLS condoms, all the basics you didn't get in secondary school. It also opens with a choreographed dance number to Christine Baranski's cover of 'Does Your Mother Know', which also plays at the beginning of every podcast. But, PJ stresses, Pure Brazen is, first and foremost, a laugh. "I wouldn't say we're experts at all, obviously we touch on important stuff, like the importance of protection and, we talk about PrEP (Pre-exposure prophylaxis) and how that's available now, we do talk about how like, girls are pressured into removing their body hair, and they shouldn't be. But basically, it's a sex talk that was kind of birthed out of the fact that we were going back to UCC during their sexual health awareness week, to kind of lighten up the mainly heavy talks, and we thought, 'Oh, we'll do like, a funny sex talk,' it was never meant to be come to us if you wanna learn about sex because we're not experts, and the majority of it is nonsense. But we hit home some points that are important, I think. [...] It's less about educating people about sex, and more about opening the conversation." The show has now been performed at multiple colleges around Ireland, as well as London.
I'm Grand Mam, previously, has been released in two, biweekly seasons of ten episodes each, however, as they told me when asked about future plans, that is soon to change. As of Sunday, February 16th, they are moving to a weekly release schedule. "We just signed with Factory Studios, so even though we loved recording at the kitchen table with our cup of tea, we're now recording in a podcast lounge in Oxford Street." Kevin explained.
"We're also doing more work for more visual stuff, because people love the podcast and want to put a face to the people that are chatting on their commute. So we're doing a lot of stuff for Instagram TV, and we're doing Mam Crush Monday, which is like a reaction video where we're doing a video of us reacting to the mammies, which is cool."
"We take mammies and we basically hype them up, we like the idea of some mammy in the west of Ireland who's now on this Instagram channel, and we're like 'Oh my god, she's amazing!' Because they are."
"And we're making an appearance at Dublin Pride this summer, with Davina Devine and Victoria Secret. They've asked us in to do a DJ session in the evening, which is hilarious because we've never DJed in our lives. That'll be at their Pride party in Vicars Street."
As for their own podcast recommendations, they suggest Getting Curious with Jonathan Van Ness, Petty Little Things with Davina Devine and Victoria Secret, and The Blindboy Podcast.

I'm Grand Mam releases new episodes every Sunday, and can be found wherever podcasts are hosted.